Within a Deep Forest 2
Nicklas Nygren (Nifflas)
Released
No (cancelled)
Genre
Platformer
Platform(s)
Microsoft Windows
Input
Keyboard
Distribution
Free
Download
Beta version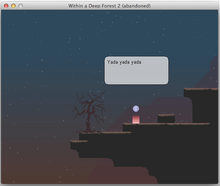 Within A Deep Forest 2 is the abandoned sequel to Within a Deep Forest.
It introduces new ball materials, each with an special alternative ability activated by pressing the "A" key. The unfinished version includes a practice level and 3 locations: City, Factory, and Strange Place. The game does not have any sound effects nor include any music, but it did have a planned soundtrack which is available for download.
The bleak industrial look and feel of the locations was said to be "depressing"[1] compared to the more natural and colorful environments of the first game.
List of ball materials
Edit

Like Deep Forest before it, this game includes a number of different materials that the player can transform into at save points. Unlike Deep Forest, pressing the "A" key activates a different special ability for each material. In the beta version the player has the option to unlock all materials on startup, to enable them for testing.
Blue - Special ability: Minimizes bouncing to stay on the ground.
Black - Moderate bounce. Special ability: Sticks to any surface including vertical walls.
Pink - Moderate bounce with a faster speed. Special ability: Activates a force field and stops bouncing or moving.
Green - Moderate bounce that seems to have a fast horizontal speed. Special ability: Activates a force field and causes the player to lose control but continues moving.
Yellow - High bounce. Special ability: Appears to slow down time and decrease the speed at which gravity affects it.
Silver - Moderate bounce with a very fast speed, and emits a small spark on every bounce. Special ability: Emits sparks around itself but loses the ability to bounce.
Purple - Appears to be made of a shiny crystalline material and is unable to bounce. Special Ability: Activates a red force field of unknown purpose.
Gray - A slow and moderate bounce. Special Ability: Activates a jet that lets it fly above surfaces.
Orange - Moderate bounce and phases in and out of view. Special Ability: Decreases bouncing.
Black - Minimal bounce and a slow fall. Special Ability: Activates a beam that seems to point towards the location fo a goal.
References
Edit
External Links
Edit
Ad blocker interference detected!
Wikia is a free-to-use site that makes money from advertising. We have a modified experience for viewers using ad blockers

Wikia is not accessible if you've made further modifications. Remove the custom ad blocker rule(s) and the page will load as expected.